Enameled glass is widely used in facade and interior glazing as a functional and decorative element of glazing. JSC RGC offers wide options for color selection, unlimited possibilities for size selection and all possible options for finished products: from single enameled glass to enamelite in triplex and insulated glass unit, in flat and bent shape.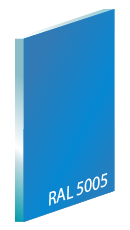 Enameled glass (stemalite) is a tempered or heat-strengthened glass, one of the surfaces of which is painted with opaque burn-in enamels. The color shades of enamel glass produced by RGC are available in the Color Catalog according to the RAL* scale. Stemalite is intended for decorative glazing of blind areas of building facades and premise finishing.
* Colors on your screen differ significantly from the originals due to color rendering characteristics. The catalog is provided for informational purposes only. It is necessary to approve the finished sample.
Functions:
Hiding structural elements of buildings to create the visibility of an all-glass facade

Decorative function in interior glazing
Application:
Interfloor ceiling areas in facade glazing
Cladding of loggias, balconies
Wall covering
Glass partitions
Furniture
Glass floors (as part of triplex)
Glass stairs (as part of triplex)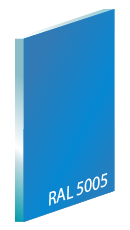 Enameled glass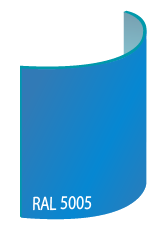 Bent (curved) enameled glass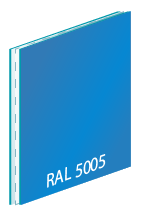 Enameled glass as part of triplex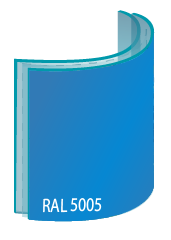 Bent (curved) enameled glass as part of triplex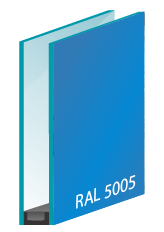 Enameled glass as part of an insulating glass unit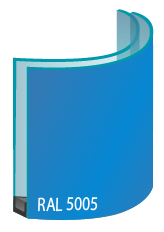 Enameled glass as part of a bent glass unit
Type of Glass

Min. Dimensions

Max. Dimensions

M1 polished glass

Tinted glass

Glasses with solid pyrolytic coating

200 х 300 mm

4-5 mm - 1200 х 2000 mm

from 6 mm - 3210 х 6000 mm
All types of float glass, dope-dyed glass, glass with a hard pyrolytic coating, as well as some types of glass with a magnetron coating can be enamelled:
Manufactured by AGC with the letter "T" in the name of the glass (TopN+T, Energy NT, StoprayT).
Manufactured by Guardian with "HT-Version" in the glass name, as well as all SunGuard Solar and SunGuard High Performance glasses.
Manufactured by Pilkington with "Pro-T" in the glass name (Optitherm, Suncool).
* For more information, consult our specialists.
Production Technology:
Washed glass is supplied to the line. The desired shade of paint according to the RAL scale is applied to the glass using a roller method. During the heat treatment process (hardening/heat strengthening), the paint is burned into the surface of the glass and becomes part of it.
Recommendations when ordering:
Stemalite, being tempered/heat-strengthened glass, cannot be cut, drilled or processed otherwise, so this type of product is supplied to size.
When placing orders for stemalite supply, the following shall be obligatorily agreed upon with the Client:
Operating conditions (external/internal glazing)
Method of application (through/not through)
Paint color according to RAL scale
Application of paint to the coated side
Samples of the appearance of the future product
Quality control conditions
Technical requirements for the product
Specific requirements to determine the possibility of manufacturing and calculating the additional labor intensity of manufacturing products according to the stated requirements
Contents and place of marking
Need for an additional procedure for thermal testing of heat-strengthened stemalite (HST).
Stemalite (like any tempered glass) has a tendency to self-destruction due to the presence of nickel-sulfide inclusions in the chemical composition of the glass. To reduce the likelihood of self-destruction, heat-strengthened stemalite, at the request of the Client, can be subjected to the Heat Soak Test (HST) procedure.
Heat Soak Test:
Any tempered glass, due to the presence of so-called nickel-sulfide inclusions in its chemical composition, cannot ensure a zero probability of spontaneous destruction. To reduce the likelihood of self-destruction of glass to a minimum, tempered glass can be subjected to a special additional Heat Soak Test procedure, which consists of holding already tempered glass for many hours in a special chamber at a temperature of 290°C. If HST is required, it shall be ordered together with the tempered glass. Claims with regard to self-destruction of tempered glass that has not passed the Heat Soak Test will not be accepted.
1. Incoming control of materials and components.
2. Stemalite (enameled back-painted tempered or heat-strengthened glass) manufactured by JSC RGC is produced in compliance with GOST R 54162-2010, which is confirmed by Certificates of Conformity and Test Reports for manufactured products.
3. Is in compliance with international standards EN 12150-1 and EN 14179:2001.
4. Stemalite produced by JSC RGC is manufactured in compliance with STO 94610236-004 of 2014 "Safety Tempered Glass".
5. Mandatory approval of samples with the Client for compliance with the color of the finished product on the RAL scale, hiding power, and uniformity of enamel coating.
High strength to mechanical and temperature effects
Durability in various climatic conditions
Scratch and abrasion resistance
Decorative properties, wide selection of shades according to RAL table
Safety (if glass is tempered)