The Russian Glass Company today offers insulated glass units of any level of complexity using different types of glass - double and triple glazed units, traditional geometric shapes, with decorative layout, with digital printing, with energy saving, solar protection, multifunctional, tempered, curved, laminated, fire-resistant glass.
An insulated glass unit is a volumetric product consisting of two or three glass sheets connected to each other along the contour by means of remote frames and sealants forming hermetically closed chambers filled with dried air or other gas.
For the manufacture of insulated glass units, RGC uses in its production, in addition to ordinary float glass, special glasses with coatings that differ from ordinary ones in such indicators as light transmission, light reflection, solar factor, emission coefficient, as well as color.
As necessary, in compliance with the requirements of building codes and regulations, glazing safety standards and design specifications, glass in insulated glass units manufactured by RGC can be tempered, heat strengthened, laminated; special fire-resistant glass can be used. According to the customer's requirements, glasses can be mollified, painted to obtain enamelite, a pattern can be applied to the glass.
Packaging of insulated glass units with glass of different properties and thickness, changing, if necessary, the number, width and gas composition of their internal chambers are selected for each facility to be glazed in compliance with its intended purpose. Depending on the availability of special glasses and components, insulated glass units solve different problems:
● Heatsaving
● Sun protection
● Multifunctionality
● Noise isolation
● Safety
● Fire resistance
● Decoration
The production complexes of JSC RGC are equipped with the latest high-precision production lines for the production of insulated glass units LISEC (Austria).
Types of Insulated Glass Units

Min. Dimensions

Max. Dimensions

IGU with different glasses:

M1 polished glass

Low emissivity glass

Solar-protective glass

Multifunctional glass

180 х 350 mm

3210 х 6000 mm

IGU with laminated glass

(triplex)

180 х 350 mm

3210 х 6000 mm

IGU with tempered glass

IGU with heat-strengthened glass

250 х 400 mm

4 mm – 1500 х 2500 mm

5 mm – 2000 х 3000 mm

6…19/12 mm – 3210 х 6000 mm

IGU with bent tempered glass

1000 х 1000 mm

5…15 mm – 2440 х 4500 mm

Structural IGU

180 х 350 mm

3210 х 6000 mm
In addition to the standard rectangular shapes of insulated glass units, RGC production lines allow the production of insulated glass units of various shapes in compliance with the approved catalog of shapes.
Recommendations when ordering
The allowable size of an insulated glass units, the rating of glasses used in an insulated glass unit, recommendations for heat treatment of glasses in each individual case of glazing determine the operational loads to which it will be subjected during use. Operating loads include:
1. Mechanical loads
2. Climatic loads
3. Thermal shock
1. Mechanical loads on glass - impacts with hard, sharp, heavy and "soft" objects; as well as loads under firearms or ammunition. To prevent the destruction of insulated glass units due to this type of load, safety glasses are used.
2. Climatic loads on glass - loads that glass and / or products made from it for construction purposes are subjected to when exposed to the strength and speed of wind, snow mass, fluctuations in temperature and atmospheric pressure, and solar radiation intensity.
During operation, stresses in insulated glass units are caused by the action of a one-sided load: wind and snow (for translucent roofs), or a two-sided load due to changes in atmospheric pressure and air temperature.
Scheme of the spatial operation of insulated glass units under the action of operational loads:

a) b) c) d)
a) insulated glass unit during production
b) one-sided load (wind and snow) on a double-glazed unit
c) double-sided load (atmospheric pressure and outdoor temperature drops) on a double-glazed unit
d) double-sided load on a triple-pane unit
In this case, the stressed state of the window unit glasses largely depends on the air temperature in the space between the panes, therefore, it changes throughout the entire life of the insulated glass units, starting directly from the moment of manufacture and installation at the facility. With the correct choice of the formula and design of the insulated glass units, climatic loads are not the cause of its destruction. In the case of an incorrect choice of the insulated glass unit formula, they can cause depressurization of the insulated glass units and glass destruction.
3. Thermal Stress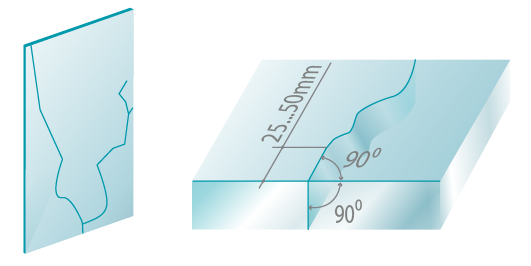 With significant temperature differences between different areas of the glazing, not tempered glass may be destroyed due to thermal stress (shock). When heated, glass expands; this is not dangerous if the temperature rises evenly throughout the sheet. However, if a part of the glass remains cold, it prevents the heated parts from expanding. This leads to an increase in tensile stresses, which can exceed the mechanical strength of the glass. If such a risk exists, the glass shall be tempered or thermally tempered.
Integrated quality control system at all stages of the technological process:
● Incoming control of materials and components.
● Step-by-step control at all stages of insulated glass units assembly.
● Acceptance control of each batch in compliance with the requirements of GOST 24866-99, GOST R54175-2010
2. Insulated glass units by JSC RGC are manufactured in compliance with the current regulatory documents - GOST 24866-99, GOST R 54175-2010, which is confirmed by the Conformity Protocols for the manufactured products.
3. Compliance with the international standard ISO 9001:2015.
4. Permanent independent control of production by regional independent certification bodies in construction "Sevzapstroysertifikatsiya" and "Center for Construction Quality".
5. Compliance of product quality with European Standard EN 1279.
6. Passport of quality for each batch of manufactured products.
7. The possibility of carrying out any additional tests and checks at the request of the customer.
● Insulated glass units of any size, shape and level of complexity
● European quality standard
● Batching of insulated glass units based on individual customer requirements
● Assistance in choosing the optimal formula
● Quality assurance for all products